Overcoming challenges a good World Cup preparation - Eoin Morgan
England captain says the side's ability to adapt to new challenges bodes well for their World Cup campaign
Should India be concerned about depth of pace attack?
VVS Laxman worries about the lack of alternative pace options available to the India bowling attack
Laxman: India will be very disappointed with their bowling and fielding
The Match Day team were surprised to see India so comfortably beaten after impressing in the first ODI
Incredible scenes on Champs-Elysees as France return home
OTL: What Putin achieved with the World Cup
ESPN investigative reporter T.J. Quinn reflects on how Vladimir Putin used the World Cup as part of his geopolitical strategy.
Laurens: 2018 World Cup more special to France than 1998
Julien Laurens explains why France's 2018 World Cup title and the resulting celebration feels more special than Les Bleus' first title in 1998.
Croatia parade around Zagreb
Croatia celebrated finishing World Cup runners-up with their fans by parading around the capital city of Zagreb in an open-top bus.
World Cup Pick'em: Best goal, player and more
From best goal to best coach, Alexis Nunes and Shaka Hislop reveal their superlatives from one of the greatest World Cups of all time.
Croatian players thank fans in Zagreb for World Cup support
Croatia's World Cup squad returned home to huge crowds following their run to the final in Russia.
Assessing the World Cup Best XI
Julien Laurens takes issue with ESPNFC.com's omission of France's N'Golo Kante in their World Cup team of the tournament.
Will Cristiano Ronaldo take Juventus to the next level?
With his official presentation complete, the FC guys discuss how far Cristiano Ronaldo can take Juventus domestically and in European competition.
How Ronaldo's move to Juve raised eyebrows
After being unveiled as a Juventus player following his move from Real Madrid, ESPN take a look at how Cristiano Ronaldo's move to Turin unfolded.
Ronaldo: Age is irrelevant, I'm more motivated than ever
Juventus' Cristiano Ronaldo admitted he joined the Italian club as he wanted to challenge himself again and insists he win just as many trophies in Italy.
Ronaldo arrives in Turin
Cristiano Ronaldo is in Italy to undergo his medical ahead of his big money move to Juventus.
Ronaldo's transfer changes the landscape of European football
ESPN FC's Stewart Robson and Craig Burley explain just how monumental Cristiano Ronaldo's move to Juventus is for world football.
Trending videos
Djokovic hoping to take confidence from Wimbledon to New York
ESPN's Chris McKendry and Brad Gilbert sit down with Novak Djokovic after his 2018 Wimbledon singles title win.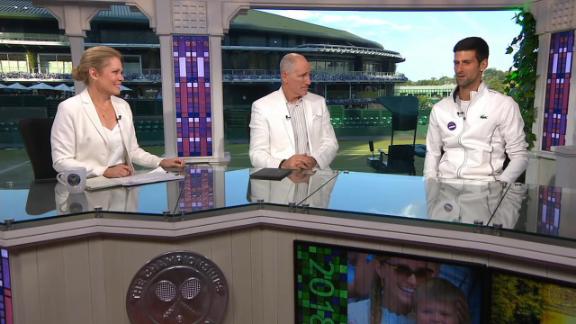 Maradona: I needed Dynamo Brest challenge
Diego Maradona has taken on the role of chairman at Belarusian football club Dynamo Brest as he felt he needed a serious project that would challenge him.
Is 'the new Paul Pogba' here to stay?
After Julien Laurens hails Paul Pogba's role in France's World Cup triumph, the FC crew examine whether the tournament was a new beginning for him.
Extra Time: Mbappe the real king of PSG? France in '18 or '98?
The ESPN FC team answer your tweets on Kylian Mbappe's stock at PSG, the 2018 France squad vs. the 1998 World Cup winning side and much more.
Djokovic eases to 13th major win
Nico Pereira recaps Novak Djokovic's straightforward win over Kevin Anderson to claim his first major in two years.
Kaka: Ronaldo move to Juve will improve Serie A
Former AC Milan midfielder Kaka believes Cristiano Ronaldo can help to raise the level in Italy and help Italian teams become great again in Europe.
Who should Argentina turn to after sacking Sampaoli?
ESPN FC's Alexis Nunes and Shaka Hislop react to Jorge Sampaoli's sacking and whether Ricardo Gareca would be the right hire to take Argentina forward.
Anderson: Incredibly proud to make top five
Kevin Anderson says he's come out of Wimbledon with a lot of positives, having reached the finals and moved up to a career-high fifth in the world rankings.
Djokovic hoping to take confidence from Wimbledon to New York
ESPN's Chris McKendry and Brad Gilbert sit down with Novak Djokovic after his 2018 Wimbledon singles title win.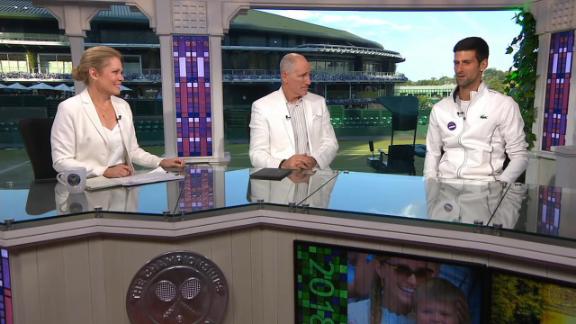 Djokovic receives royal congratulations
Novak Djokovic got to chat with the Duke and Duchess of Cambridge, Prince William and Kate Middleton, after securing his fourth Wimbledon singles title.
Djokovic congratulated by son Stefan
2018 Wimbledon men's champion Novak Djokovic was greeted with a hug by his son Stefan after his win over Kevin Anderson.
Customise ESPN
Getty

The 2018 World Cup stories of ESPN's Jayaditya Gupta, updated as he takes in more of the sights and sounds of the host country Russia.

ESPN

Full list of nominees and all the related stories of the 2017 ESPN.in sports awards

AP Photo/Martin Meissner

Want to watch live sport on TV but not sure on what channel and at what time? Here's your one-stop guide to the what, where and when of watching the best of sport on Indian television.

EPA/TATYANA ZENKOVICH

Get the 2018 French Open tennis tournament's dates, TV schedule, news coverage, live scores and results on ESPN.

Manchester City FC/Man City via Getty Images

Results and scores from the Premier League, Champions League, La Liga, English football league and more.

FREDERIC J. BROWN/AFP/Getty Images

Live scores, results and upcoming fixtures

SAEED KHAN/AFP/Getty Images

Commonwealth Games 2018 Results - India

Sutton Images

Saeed Khan/AFP/Getty Images

Latest scores and results from ATP and WTA tours

Ron Gaunt / BCCI / SPORTZPICS

Welcome 2018! This will be another busy and exciting year in the world of sports -- with the football World Cup in Russia promising to be the icing on the cake. Here's what to look out for and when.

Getty

The summer transfer window is well and truly open. Check out the completed moves from all the major leagues.

John Powell/Liverpool FC via Getty Images

Keep track of all the important upcoming fixtures in the Premier League, Champions League, La Liga and more.

Matthew Peters/Man Utd via Getty Images

Updated tables from Premier League, La Liga, Serie A, Bundesliga and other major global leagues

Alberto Pezzali/Pacific Press/LightRocket via Getty Images

Clive Brunskill/Getty Images

KARIM JAAFAR/AFP/Getty Images

Keep track of the complete ATP and WTA calendars.

Madhu Kapparath

Football has been more than a sport for India's north-east region; it has given people an identity. And Aizawl's stunning I-League run offers a lesson in building the sport from the grassroots.

Dave Merrell

We polled our top writers and analysts to rank the best players and managers in world football. Here are their selections. It's #FC100.
Adrian Murrell/Allsport

ESPN remembers the past through the course of India's 500th Test.