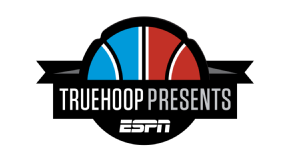 "When LeBron was playing with the Heat, they went to Cleveland, and he wanted to spend the night. They don't do overnights. Teams just don't. So now [coach Erik] Spoelstra has to text [president Pat] Riley and say, 'What do I do in this situation?' And Pat, who has iron-fist rules, answers, 'You are on the plane. You are with this team.' You can't hold up the whole team because you and your mom and your posse want to spend an extra night in Cleveland. ... I do know LeBron likes special treatment. He needs things his way." -- Phil Jackson, Knicks president
"It just sucks that now at this point, having one of the biggest businesses you can have both on and off the floor, having a certified agent in Rich Paul, having a certified business partner in Maverick Carter, who's done so many great business [deals], that the title for young African-Americans is the word 'posse.'" -- LeBron James
TO MEN WHO hate having their power tested, Maverick Carter is a special nightmare. Heat president Pat Riley, a Hall of Fame coach, can't control Carter. Cavs owner Dan Gilbert, a billionaire capitalist, can't buy away Carter's fealty to his lifelong friend, LeBron James. Phil Jackson, who coached no less than Michael Effing Jordan, can't fathom a man challenging his team's travel itinerary -- so what kind of blasphemy would Jackson profess to see if he walked into Carter's Las Vegas hotel suite right now?
It's a Thursday night in January, and Draymond Green, James' ostensible Warriors rival, laughs from a love seat in the marble-floored living room. Crumpled on a nearby couch is a napping Chris Bosh, who's still waging a cold war with Riley's Heat. As of an hour ago, I didn't know this enormous, mahogany-walled edifice existed. Which is no accident. The Mansion's VIP-only villas, decorated in the style of a Florentine, yes, mansion, are hidden behind a warren of secure hallways linked to the MGM Grand's high-roller tables. Welcome to an ironfisted coach's posse-driven fever dream.
"This," says Carter, barefoot and raspy-voiced, swaddled in gray sweats and a black hoodie that reads UNINTERRUPTED, "is like the All-Star Game."
Sort of. The all-stars Carter is referring to are the likes of Google, Amazon, Verizon, Facebook and Twitter, the luminaries of the planet's biggest tech convention, the Consumer Electronics Show. Carter's business partner, James, is back East with the Cavs -- the man, after all, has a day job. Meanwhile, Carter, head of SpringHill Entertainment, their multiplatform production company, has hosted a dozen meetings over the past three days with chief marketing officers, media execs and ad agencies. "Maverick's network is at the highest levels of business in the U.S. and abroad," says Harvard Business School professor Anita Elberse, who published a case study about James and Carter in 2009. "He stands shoulder to shoulder with Steve Ballmer and Bill Gates. And then, in the entertainment world, it's a ridiculous list of movers and shakers."