Panthers complete comeback with Olsen's TD
Trailing 17-0 in the fourth quarter, Cam Newton and the Panthers come all the way back capped off by Greg Olsen's 1-yard touchdown.
Newton converts 4th down with incredible effort
Cam Newton escapes pressure and absorbs a hit while completing a pass to former Eagle Torrey Smith for a 35-yard gain.
Newton hits Funchess for 18-yard TD
Cam Newton throws his first touchdown pass of the game as he brings Carolina within striking distance.
Wentz tosses a TD strike to Goedert
Carson Wentz rolls to his right and flings a one-yard touchdown pass to Dallas Goedert.
Reid in middle of pregame, in-game scuffle
Panthers DB Eric Reid has words for Eagles DB Malcolm Jenkins before the game. Later, Zach Ertz takes exception to Reid's unnecessary roughness.
Eagles go with soccer celebration after Jeffery's TD
Carson Wentz zips in a touchdown pass to Alshon Jeffery, and the Eagles WR celebrates by re-enacting a free kick.
Hopkins burns Ramsey for awesome 1-handed snag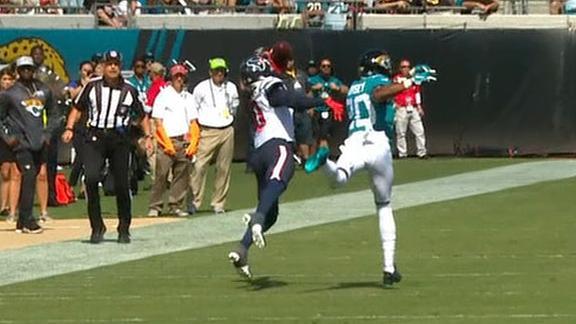 Cousins drops a dime to Robinson for Vikings TD
Kirk Cousins finds Aldrick Robinson in the end zone for another Vikings touchdown in the fourth quarter.
Johnson rips of 71-yard run for Lions
Kerryon Johnson breaks through and takes off for a 71-yard run to set up a field goal for Detroit.
Dolphins' Drake sprints past defenders for 54-yard TD
Kenyan Drake flies past Detroit defenders and scores on a 54-yard run.
Kessler, Yeldon connect on chaotic 6-yard TD
Cody Kessler buys time, rolls right and flings a 6-yard touchdown to T.J. Yeldon, who reaches back with one hand and reels in a crazy grab.

It's not too late to play!
Iveta Karpathyova

The Saints QB is now the all-time passing yards leader in NFL history. We track his path to 71,968 yards.
Photo by Larry Radloff/Icon Sportswire

With 21 roughing the passer penalties through 31 games, the league is on an unprecedented pace for the season. Players seem unclear on what's next.
Joel Kimmel

Bill Belichick was a sophomore at Wesleyan when a dangerous practice tactic left the future Patriots coach injured and fuming.
Customise ESPN