Stewart shares what's next in her legendary basketball career
Fresh off her WNBA Finals MVP, Seattle Storm forward Breanna Stewart keeps on striving for an even better resume.
Bird: 'I didn't think I'd be back' to the finals
Sue Bird talks with Holly Rowe and discusses how this win is special because she didn't know if she'd make it back to the finals.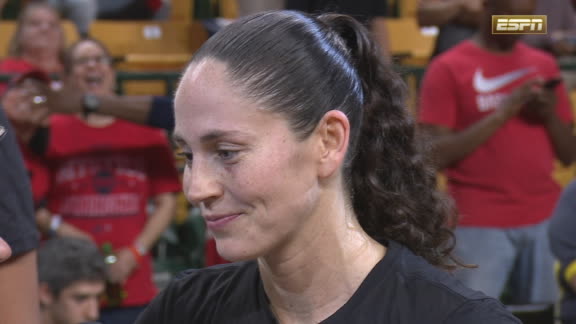 Delle Donne spins and scores
Elena Delle Donne spins and puts in the floater as she tries to bring her Mystics squad back.
Sanders saves ball but injures ankle
LaToya Sanders dives and saves the ball but rolls her ankle on the floor, causing her to leave the game.
Toliver drains 3
Kristi Toliver hits the 3-pointer bringing the Mystics even at 10-10.
John Wall and Bradley Beal in attendance
Washington Wizards' guards Bradley Beal and John Wall are in attendance at the WNBA Finals.
Customise ESPN
AP Photo/Nick Wass

Seattle swept Washington to win the Storm's third WNBA championship.
Women's Basketball Recruiting
Phil Ellsworth | ESPN Images

Stay up-to-date with the latest recruiting news from HoopGurlz.