TEMPE, Ariz. -- When the Arizona Cardinals' offense was finally revealed Sunday afternoon, it blended coach Kliff Kingsbury's Air Raid background with concepts that work on a weekly basis in the NFL.
In part, that was out of necessity.
The Cardinals ran 82 total plays after averaging 56.4 plays last season, but they couldn't showcase their true offense against the Detroit Lions because they were playing from behind until there were 43 seconds left in the game.
Still, "You saw some things you don't normally see on NFL Sundays," ESPN analyst and former NFL safety Matt Bowen said.
Kingsbury has admitted that he was "too cute" with his playcalling in the first half, which prevented the Cardinals from getting in an offensive rhythm. He used quads (four WRs on one side), backside slants, mesh concepts (an Air Raid staple) and a lot of empty backfield early in the game. That led to some of the worst offensive football Kingsbury said he has ever seen.
"I think it's hard to be in a rhythm as a quarterback when you're jumping from so many different types of concepts, personnel groupings, formations and alignments," Bowen said of rookie quarterback Kyler Murray. "It can be tough, especially against a Matt Patricia defense. They threw some stuff at him he's probably never seen before. That should be expected when you're a rookie quarterback in your first start."
When the Cardinals found themselves trailing by 18 points early in the fourth quarter, Kingsbury pivoted to more conventional NFL concepts, including a variety of slot fades to wide receiver Larry Fitzgerald. The decision to move away from some of his early formations and plays made the difference in Murray's bringing the Cardinals back to tie the game with less than a minute left in regulation, forcing overtime.
"I did a poor job of getting them in a rhythm early, and I think that would've made a big difference early on in the game had I chosen some different playcalls," Kingsbury said.
Said Murray of the second half: "Think we just started doing what we're good at. I don't want to say simple but just running our stuff and just going. Going fast. And I think that opened everything up."
However, the most notable takeaway from Kingsbury's first game was how heavily he relied on an offensive formation rarely seen in the NFL last season.
He used 10 personnel -- one running back, no tight ends and four receivers -- 56 times against the Detroit Lions in Week 1. The most the formation was used all of the past season was 47 times by the Lions. Of the 314 yards the Cardinals gained in 10 personnel, 237 of them were gained in the fourth quarter and overtime.
Using 10 personnel was partially necessitated by the score. The Cardinals needed chunk plays in a hurry -- and points even faster. Having four receivers on the field allowed both to happen more quickly.
Going with 10 personnel comes with risks. It leaves the offensive line on an island without any help outside of each tackle, which narrows the path for a pass-rusher to reach the quarterback. If a long-developing play is called, Bowen pointed out, the risk of a pressure reaching the quarterback increases.
However, 10 personnel also allows an offense to run more of a horizontal passing game -- more outs, more wide receiver screens and more RPOs.
"I don't think it's revolutionary," Bowen said. "I think he's trying to cater to the personnel on his team. I think it's smart coaching."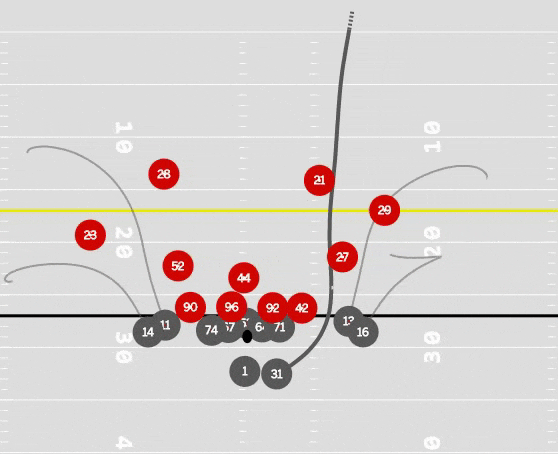 There were some Air Raid-specific moments, though, Bowen pointed out, such as the 27-yard touchdown pass to David Johnson that cut Detroit's lead to eight with just under six minutes left in the game. The Cardinals got the two-deep coverage they wanted and created a mismatch with Johnson against the Mike linebacker, whose back was to Murray the entire play.
That play changed the course of the game.
"It wasn't Kliff Kingsbury rewriting the game of football," Bowen said. "It wasn't. It was Kliff Kingsbury calling proven routes, some Air Raid concepts, some pro-style concepts we see every Sunday, mixing them together and giving his quarterback matchups."
There's going to be a learning curve for Kingsbury every week. But Week 1 was a significant lesson for him. He had too much time to get creative with his offense, and it hurt the Cardinals early, but he was willing and able to pivot to concepts that work. And they did.
"It's a different level than I was coaching in before," Kingsbury said. "I've said it since Kyler got here: We're going to grow together and take some lumps together and just try to keep getting better each day. That's our goal. He made some huge strides there late, showing a lot of poise and mental toughness, and we can build off that. There's a lot to clean up, and he understands that, and we'll work on that this week."