MUST LISTEN
Is Antonio Brown Worth the Risk for Brady and the Bucs?
Antonio Brown is back in the NFL after agreeing to a one-year deal with the Tampa Bay Buccaneers on Friday. On the field, Brown is one of the most prolific wide receivers in NFL history, with over 11,000 receiving yards and 80 touchdowns in a career that began as a humble 6th round pick. But off the field, Brown has had ongoing issues: from social media outbursts to troubling sexual assault allegations and an arrest. After serving an eight-game suspension for violating the NFLs Personal Conduct Policy, Brown will reunite with Buccaneers QB Tom Brady, who was Browns teammate for one game in New England last season, before Brown was released by the Patriots. Mina Kimes, who profiled Brown back in 2015 for ESPN the Magazine, joins the show to discuss his tumultuous journey to this point, and to assess whether the hall-of-fame caliber wide receiver is worth the risk for an already surging Buccaneer offense. Then, Pablo weighs in on the surprising news that the Philadelphia 76ers are reportedly about to hire former Houston Rockets GM Daryl Morey.
Play | Download | Apple Podcasts | RSS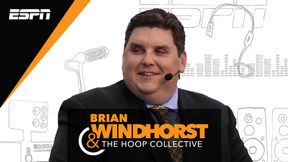 Gap Week
After a flood of news, Brian Windhorst, Tim MacMahon and Tim Bontemps speculate on Daryl Morey's potential plans for the 76ers and how James Harden will fit with new Rockets head coach Stephen Silas. Plus, the guys discuss the peculiar timing of the Jazz sale and what it means for the team's future.
Play | Download | Apple Podcasts | RSS
MOST POPULAR
Laughter Permitted kicks off Season 4 with Academy Award-winning actress Natalie Portman, who talks about her role in founding the newest NWSL team, Angel City, and why she was drawn to soccer as a way to make an impact in society. Natalie also shares why she felt compelled to put a spin on classic children's stories with her "Natalie Portman's Fables." Stay tuned to find out which role was Natalie's favorite and if we can ever expect a Natalie's Rap Part 3.

Our search for Conrad Mainwaring began with a single tip, from a California man named Andrew Zenoff. Andrew reached out to reporter Mike Kessler and told the story of his older brother, Victor. The siblings had attended a summer camp in the late 70s, where Victor was allegedly molested by Mainwaring. By 1980, just short of his 18th birthday, Victor would die unexpectedly just days after telling his mother what Conrad did to him. For years, the Zenoffs grappled not only with the loss, but with so many unanswered questions. Beginning in 2017, after Andrew called Kessler, we began to look for answers. And we started with a question that seemed simple enough, but proved quite elusive: Who was Conrad Mainwaring?

Karl Ravech and Buster discuss Kevin Cashs decision to pull Blake Snell, how analytical decisions are dividing baseball fans, if the championship means more to Dave Roberts or Clayton Kershaw, and Justin Turner returning to the World Series celebration after a positive COVID test (12:55). Then, Jake Odorizzi talks about what he saw in Snells stuff early on, if he thought Cash would pull Snell, if the decision will cause a rift between player and manager, and where the game is as an entertainment product (31:41). Later, Sarah Langs stops by to play The Numbers Game with notes on the Dodgers winning percentage, Mookie Betts home run and her favorite stat of the entire season (45:08).
SVP & Stanford Steve are joined by Arizona Cardinals head coach Kliff Kingsbury as he discusses play calling in the NFL, Kyler Murrays growth, his amazing house and more. Plus, the guys chat about the Big Ten, OSUs dominance over Michigan & condiments.

Mark & Wes are joined by Steve Swanson to talk about the hard work the women's soccer team has put in this season.
FIND YOUR FAVORITE PODCAST
FOLLOW US ON TWITTER

Get the latest updates on Twitter. Follow us.