The best left-backs combine pace and intelligence to be a threat in attack or in defence. Comfort and precision crossing with the left foot is a rare commodity, too, but the top players will be at their best when on the overlap before curling in the perfect ball.

David Alaba, Bayern Munich
The 24-year-old Austrian is arguably the archetypal modern player. Technically smooth on the ball and equally comfortable almost anywhere on the pitch, this season alone the Bayern Munich star has played in four different positions for club and country: left-back, defensive midfield, attacking midfield and forward.
It sums up his adaptability that has provided the second-highest number of assists for Bayern this season behind Franck Ribery, with five -- four of which came from left-back. When Bayern won the Bundesliga title in April, Alaba became the youngest player in league history to be involved in 100 wins -- though he was unable to help his country out of the group stage at Euro 2016.

Jordi Alba, Barcelona
Over the past few years, Barcelona have undergone an evolution in style, and now favour sudden breaks and explosions in play as much as intricate passing moves. That greatly suits Alba, whose pace has become a key asset for one of the finest sides in the world. His ability to burst up the pitch gives Barca another dimension, and offers their stellar attackers space to roam.
It is no surprise, then, that he provided more assists than any other defender in La Liga last season. That willingness to get forward can come at a cost, however, as Alba can be prone to the occasional lapse in defence, but his overall contribution means it is well worth the risk. The Spaniard makes his team fast -- something close to indispensable in the modern game.

Marcelo, Real Madrid
With all of the supreme talent in the Real Madrid side, it can be easy to overlook a full-back, but Marcelo's teammates don't. Indeed, they see him as one of the most technically gifted players at the club, marvelling at his ball-juggling skills.
Having made his international debut at 18, the Brazilian has become one of the world's finest full-backs in the decade since. He provided more assists than any other defender in La Liga in 2014-15, but has also added a defensive composure to his game that was missing when he first arrived at the Bernabeu. He was one of the key figures in Madrid's 11th Champions League triumph last season, and scored one of the penalties in the shootout win over Atletico Madrid.

Raphael Guerreiro, Borussia Dortmund
The 22-year-old announced himself as a top talent at Euro 2016 and was named in the competition's team of the tournament after starring for Portugal at left-back. But he is more than just a full-back.
Dortmund manager Thomas Tuchel immediately said upon signing him from Lorient in the summer: "He is far too good to be restricted to one position." We have also seen Guerreiro's abilities in central midfield, and he has scored two goals and provided three assists from that role. From a player who showed supreme solidity for Portugal, his attacking instincts have improved and his set-piece ability is also something to keep an eye on.

Cesar Azpilicueta, Chelsea
In a world where full-backs are almost used more as attackers than defenders, and are prized for their forward play over what they can do at the back, Azpilicueta is the ultimate throwback. The Chelsea man stays deep, protecting his goal, and doesn't get up the pitch all that much, as indicated by a career return of just three goals.
The 27-year-old is very tough to get past, strong in the tackle and solid in almost everything he does at the back. His consistency also sets him apart and he has become a regular in the Spain squad, while he already looks to be one of Antonio Conte's fixtures in a three-man defence. Whether it's in either full-back slot or in the middle, Azpilicueta is a proper old-fashioned defender. Maybe the best of that type in the world.

Patrice Evra, Juventus
There was once a time when Evra was out on his own as the best left-back in the world, but even if the 35-year-old is no longer the relentless runner he was between 2006 and 2011, it shows just how good he is that he is still in the conversation.
And how could he not be? He is an influential senior player in two of the finest teams in the world. Evra has given Juventus -- a team that reached the Champions League final in his first season at the club in 2014-15 -- a dynamism from left-back, while also offering Euro 2016 finalists France a dependability and presence in the dressing room. His reading of the game is excellent, and it is a credit to him that he makes the list well above some of his younger peers.

Ricardo Rodriguez, Wolfsburg
The 24-year-old has been linked with the biggest clubs in the world for two years now, though they have so far baulked at the €25m that Wolfsburg have demanded. It is surely only a matter of time before the Swiss international gets a big move because, as he becomes more mature, he will show how can live up to that kind of fee.
Rodriguez is close to being the perfect modern full-back: solid in defence, but also effective going forward. He was one of the most productive defenders in the Bundesliga over 2013-14 and 2014-15, hitting five goals and providing nine assists in the former, and six goals and five assists in the latter.

Lucas Digne, Barcelona
Currently Jordi Alba's understudy at Barcelona but, at 23, the France international will take on a more prominent role over the next few years. Digne is similar to Alba in the way he surges forward. And although his pace is not quite as penetrating as the Spanish international, he does have a tenacity in the tackle.
On loan at Roma last season, and among Opta's top-20 rated defenders in Serie A last season, Digne had the highest ratio of tackles won with 49 out of 56. He now just needs to cement his place in the Barcelona and France teams.

Danny Rose, Tottenham
Mauricio Pochettino has made Tottenham one of the most exciting and energetic teams in Europe over the past year, and a large part of that is down to the full-backs. The Argentine relies on them to give his team thrust with surges up the line, and is increasingly relying on Rose.
The 26-year-old's performances for Spurs earned him a deserved place in the PFA Team of the Year last season, and he made the most tackles per game in the 2015-16 Premier League for a defender (3.8). Those performances led to his first senior England cap against Germany in March and he was in his country's squad for Euro 2016. The demands that Pochettino places on his full-backs means he has to regularly rotate, but it is clear who the first choice at left-back is.

Filipe Luis, Atletico Madrid
Atletico Madrid have become the finest defensive side in the world, so it speaks volumes that Filipe Luis is considered one of Diego Simeone's lynchpin defenders. His form has been so good, in fact, that it beggars belief Chelsea under-used him so much when they owned him in the 2014-15 campaign.
It reflects Luis' durability, though, that he immediately walked back in to Simeone's defence when he re-signed and was as dependable as ever. It's easy to see why the manager likes him so much. Luis made more tackles than any other defender in Spain last season, with 176, but also more dribbles than any other defender too, with 195. He is Simeone's ideal full-back.
---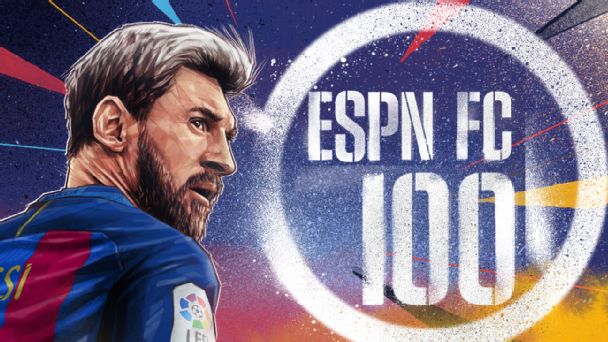 FC100: The full list
Goalkeepers
Right-Backs | Centre-Backs | Left-Backs
Central Midfielders | Attacking Midfielders | Wingers
Forwards | Strikers
Managers
---
Feature content
Gab Marcotti: Putting the fun back in football rankings
Miguel Delaney: Picking the future #FC100 No. 1s
Nick Miller: England's slipping stock behind low #FC100 representation
Mark Lovell: No surprise that Bayern dominated #FC100
John Brewin: Where were all the Premier League players?
---
FC 100 is the result of a comprehensive vote among ESPN FC writers, experts and regions to determine the top 100 in the men's game right now. Our ballot breaks things down by position to more accurately reflect the top performers all over the pitch, not just the ones who dominate the headlines.