No player is more synonymous with a particular skill than Johan Cruyff's dragging of the ball behind his standing leg before darting off in another direction; you may know it as the Cruyff Turn.
Which players of the modern game have established signature moves of their own? Michael Cox breaks down some of football's most impressive pieces of technical ability.
Iniesta's croqueta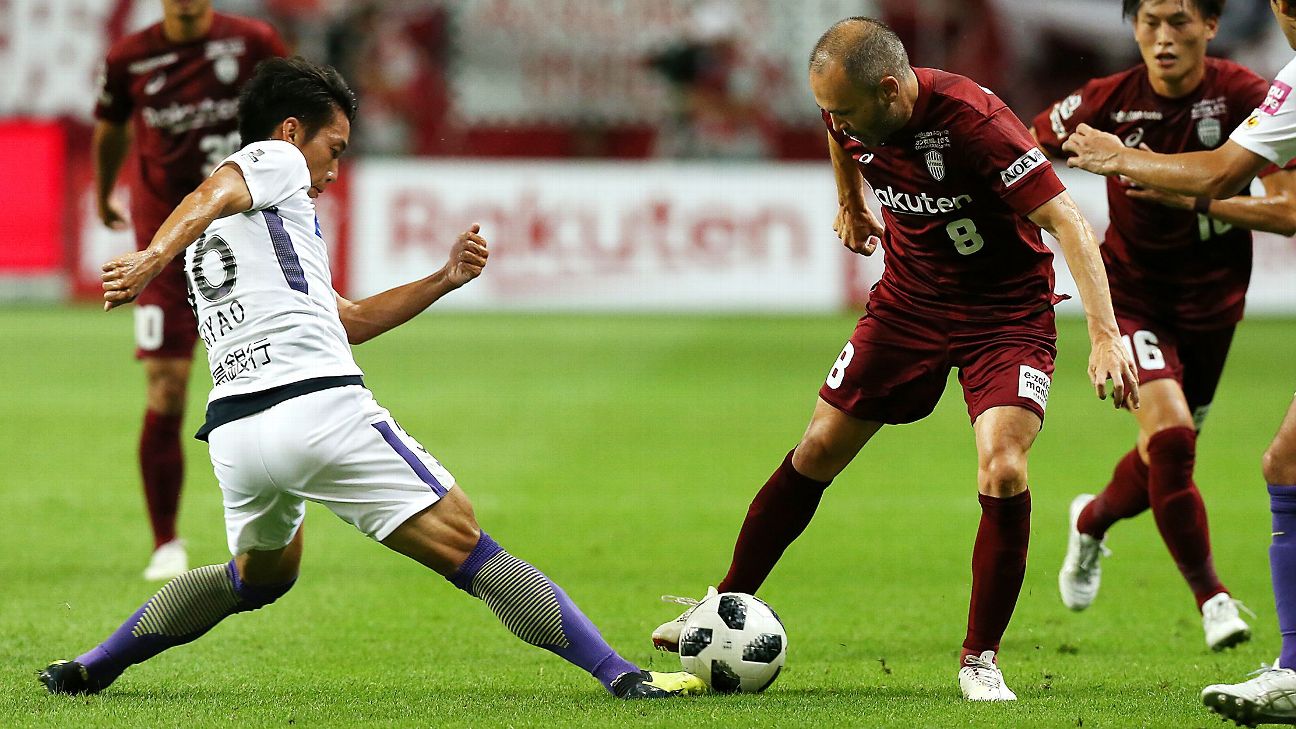 The extraordinary success of Barcelona and Spain during the era of Xavi and Andres Iniesta was based primarily around passing. But while Xavi was a pure passer, Iniesta had something different: a change of speed, an ability to turn quickly and, more than anything else, his croqueta.
A move borrowed from his hero, Michael Laudrup, Iniesta's croqueta was simple on paper but beautiful to watch in the midst of a high-speed, ultra-physical midfield battle. It essentially involves Iniesta being confronted with at least one defender and getting past him by playing the ball from one foot onto the other, side-foot to side-foot, with Iniesta's body weight shifting accordingly to slalom past. It also proved particularly effective when opponents attempted to double up against him; it was the perfect way of bypassing two players at once, bisecting them while changing direction smartly.
"La Croqueta is a piece of skill that exists not because it looks nice but because it serves the purpose of setting you up for the next pass," said Laudrup, the move's originator. For Iniesta, a purposeful passer rather than a prolific scorer, it was the perfect piece of skill.
Mahrez's fake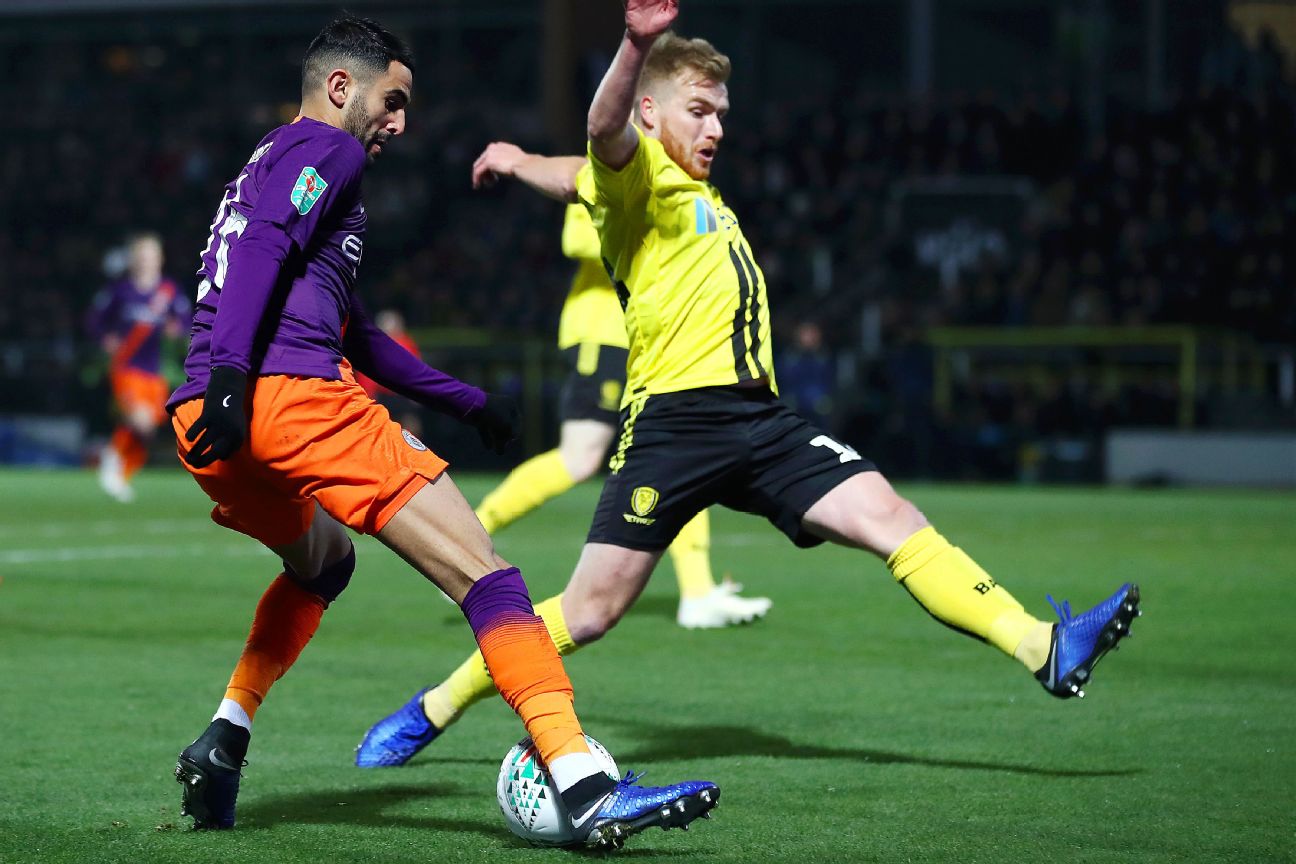 Riyad Mahrez was Leicester City's star performer during their extraordinary 2015-16 title-winning campaign, and one particular incident remains most memorable. In a meeting against Chelsea shortly before Christmas, Leicester won 2-1 with the crucial goal struck by Mahrez, who received possession up against Cesar Azpilicueta, creating space for himself by shaping to shoot but actually moving the ball back inside with his left foot, before shifting the ball into a better shooting position and firing home.
Mahrez is generally categorised as one of those inverted wingers who can only cut inside and shoot, but his tendency to perform this fake shot allows him to send the opposition fullback the wrong way, before he goes down the outside.
There are slight variations. Usually, having used the outside of his left foot to move left, Mahrez uses the inside to move right. But sometimes he rolls his studs over the ball, keeping it closer to him, and sometimes there's more of an extravagant Cruyff turn, sending the ball behind his standing foot. By now, defenders know what's coming but they can't always stop themselves from falling for the fake.
Quaresma's trivela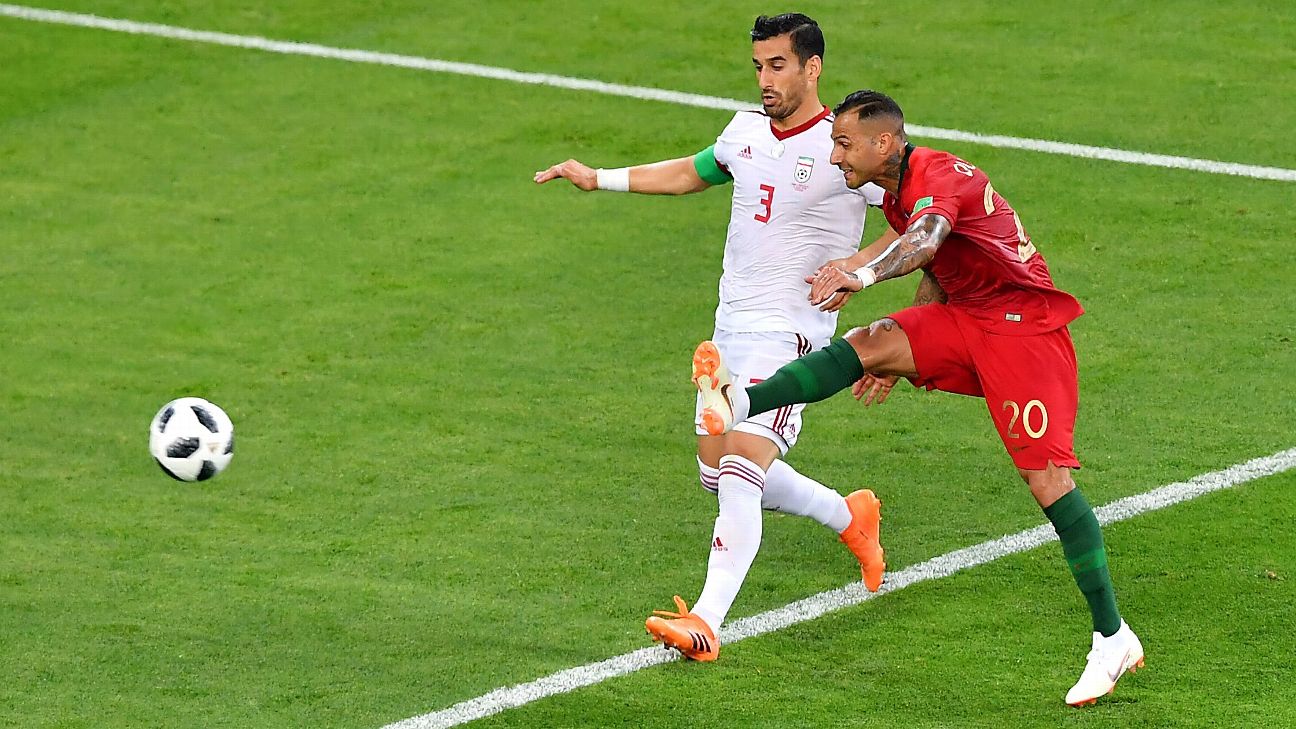 Ricardo Quaresma and Cristiano Ronaldo played together in Sporting Lisbon's academy; they're both wingers, both highly individualistic and both intent on trying to out-do one another with their trickery. Ronaldo clearly had the more successful career, converting his skill into end product rather than stepovers. Quaresma, though, remained obsessed with the aesthetic.
No other footballer is so determined to use the outside of his foot. That technique is sometimes considered flashy, sometimes considered the mark of a player who hasn't worked on his weaker side. But Quaresma is more dangerous with the outside of his right foot than the inside and has scored a succession of memorable strikes with his trademark trivela. His debut international goal, against Belgium, remains the most spectacular because of the incredible arc on his shot, while last summer he scored a trademark effort against Iran at the highest stage, the World Cup.
Quaresma is almost unique in world football. In an era of inverted wingers, Quaresma's tendency to use the outside of his right foot makes him almost an inverted-inverted winger; despite being right-footed, he's more of a crossing threat from the left, more of a shooting threat from the right.
Ozil's bounce finish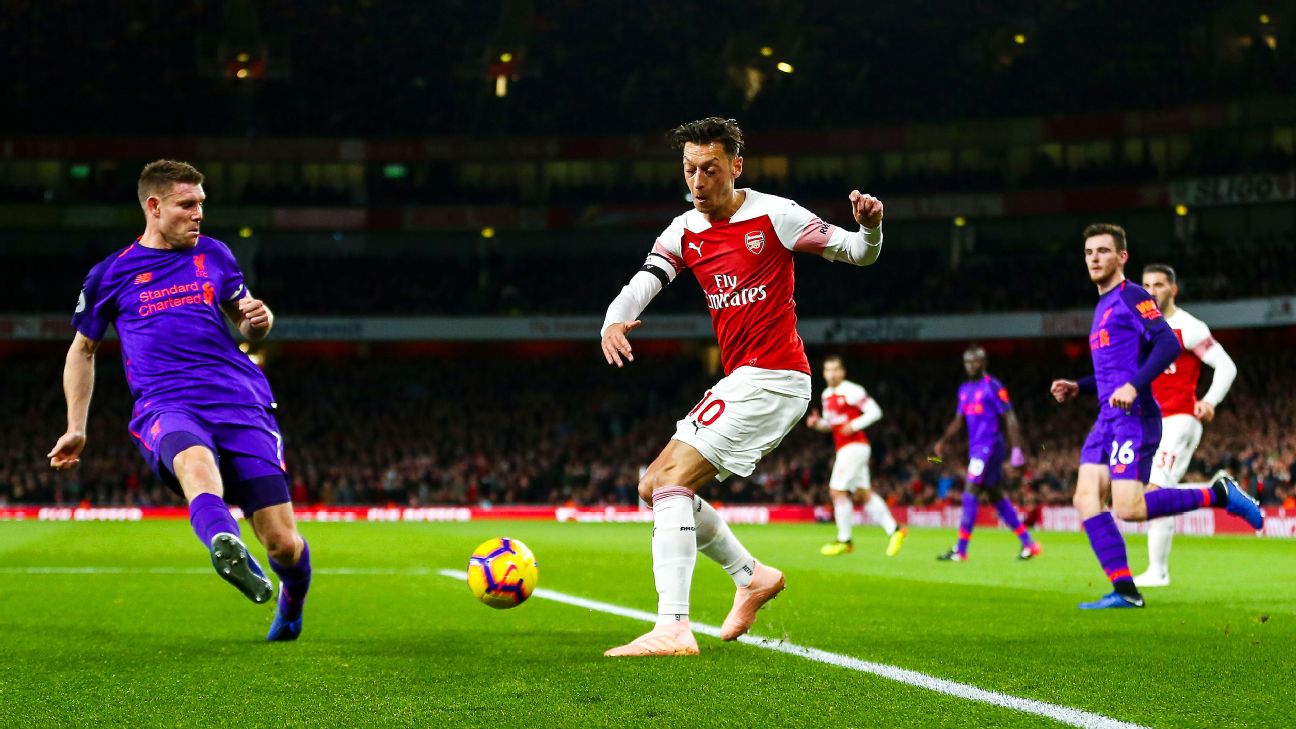 For an attacking midfielder with his level of technical quality, Mesut Ozil doesn't score too often. Nevertheless, he still has a signature finish.
Ozil loves surprising opposition goalkeepers by striking the ball into the ground, causing it to bounce up unpredictably and loop into the net. Sometimes this is performed one the volley, a relatively simple technique, but Ozil has also learned how to strike a rolling ball into the ground, not so much dinking it over the goalkeeper, as pushing it into the ground and up over the goalkeeper.
The first couple of times Ozil did this, it felt like a fortunate scuff, but training ground footage reveals it's a move he practices regularly, and has used to great effect in matches. Ozil being Ozil, of course, he's also used the trick as an assist, bouncing the ball over the feet of opposition defenders and straight to a teammate.
Busquets' disguised pass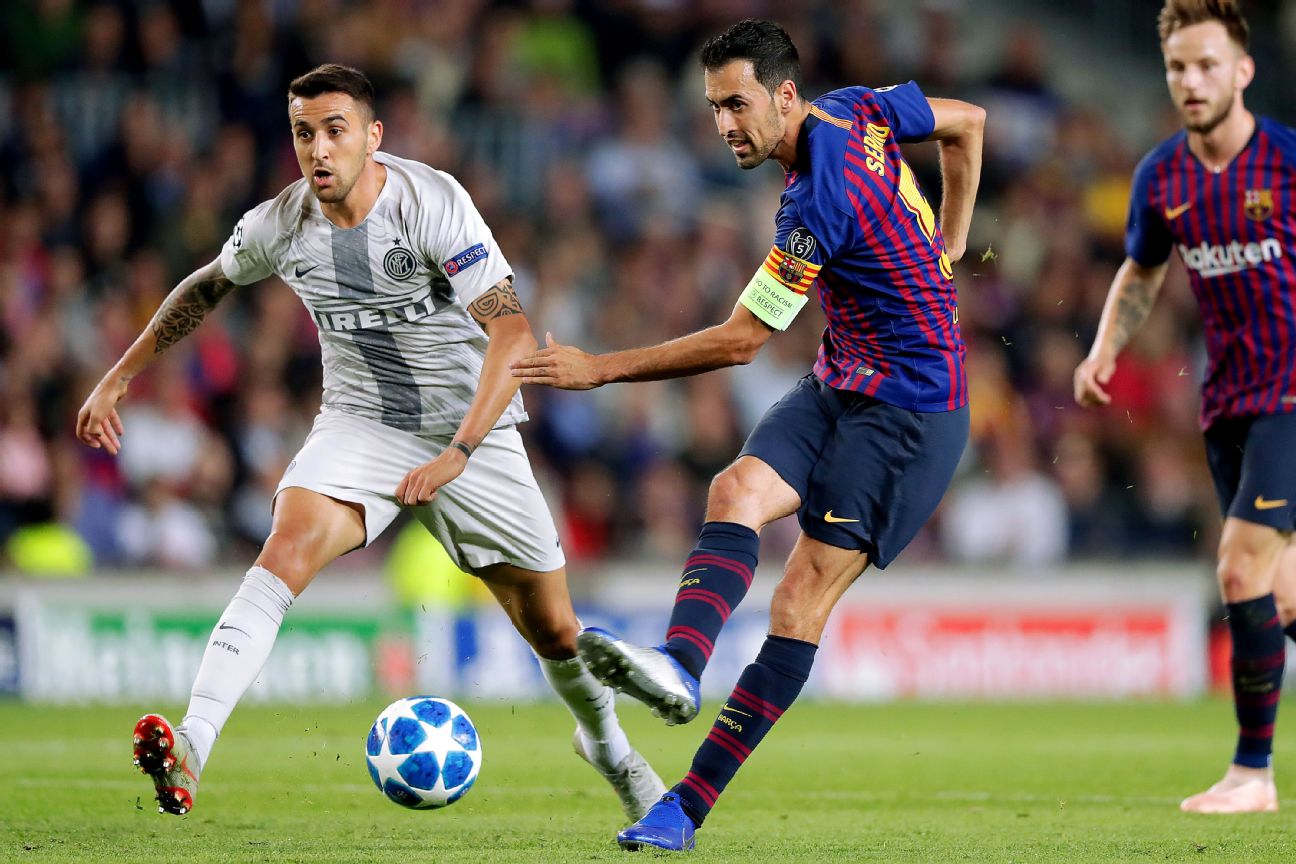 When Sergio Busquets first became a regular at Barcelona, he was renowned as a steady defensive midfielder who kept his distribution simple. The more you watched him, however, the more you appreciated his penetrative distribution; he rarely played dramatic diagonal passes, but instead cut through the opposition lines by disguising his passes.
Busquets has done the same thing repeatedly throughout his career: receiving the ball in a deep midfield position, glancing to his right, opening up his body as if to play a pass out to an overlapping right-back before cutting a reverse pass into the feet of a central attacker -- usually Lionel Messi -- instead.
The beauty of this move is that Busquets simultaneously creates space by tempting defenders to shift their body weight and prepare to advance out to the left, then exploiting it with his pass. Defenders are often left wondering what's happened for a split second, before they start closing down the recipient of the pass.
Kroos' shuffle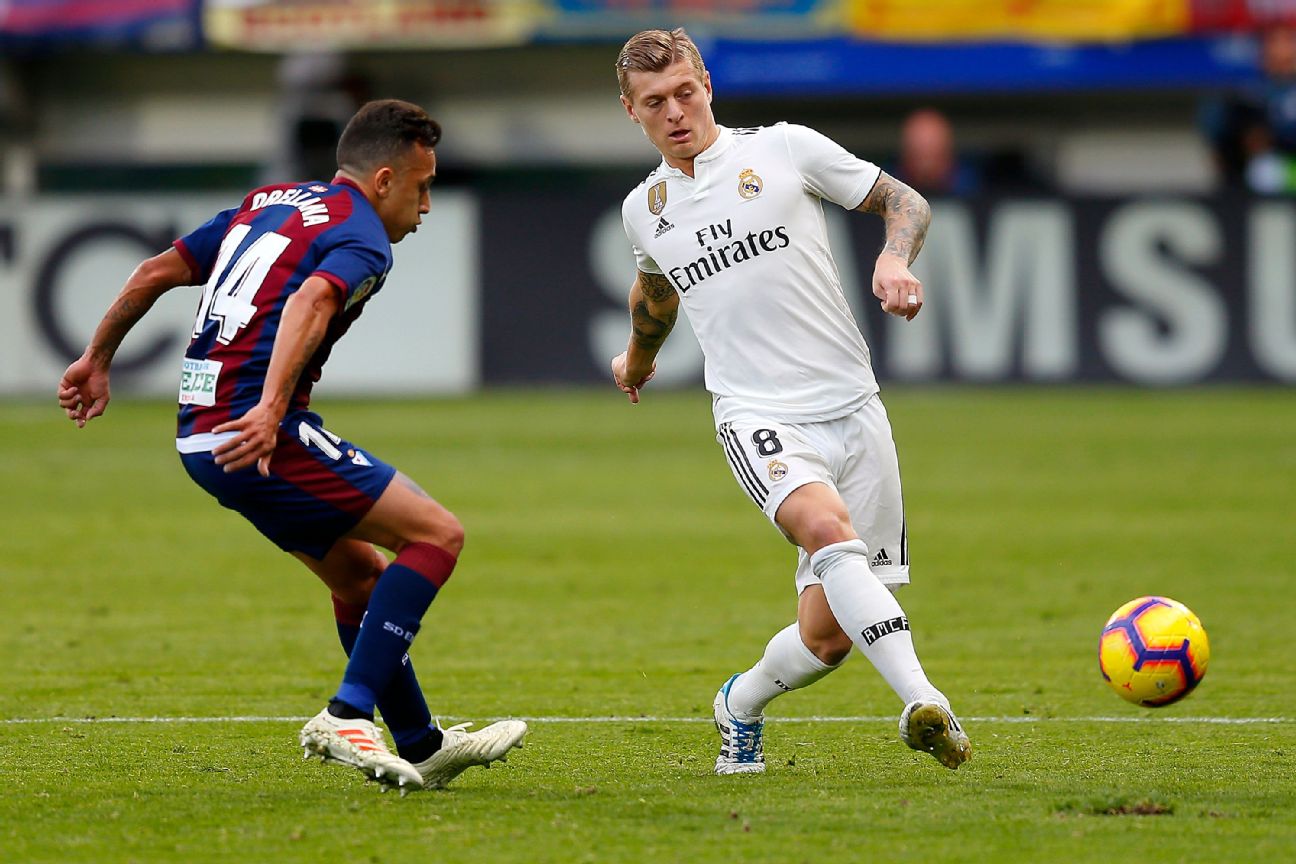 It takes a long time watching Toni Kroos to realise that his manner of controlling a pass is actually a move. On first glance, it sometimes feels like he's simply taken a heavy touch but no, the more Kroos does the same thing and remains in control of the ball, you realise it's a deliberate ploy.
Kroos' shuffle is essentially a dribble with his first touch, beating an opponent unexpectedly. When Kroos receives a pass, usually from the left, usually onto his right foot, he'll take a heavy touch with the inside of his foot, immediately knocking the ball toward his left. His opponent, usually focused on closing down Kroos' right foot, suddenly finds himself moving in the wrong direction.
It helps, of course, that Kroos is comfortable with his left foot and therefore working the ball onto his weaker side doesn't cause problems, although he usually gives himself enough time to work the ball back onto his right foot. Either way, it's a simple but effective move that gives himself extra thinking time in possession.