These daily files will give you the latest reporting from around the World Cup as well as betting lines, what to watch for information and best reads. Check in with ESPN throughout the tournament as we bring you the latest from France.
- RUGBY WORLD CUP 2023: Squads | Schedule | Standings | Podcast | Injuries
---
THE LEAD: GREATEST WORLD CUP POOL MATCH EVER?
PARIS, France -- Ireland's meeting with South Africa in Paris on Saturday had the pre-match billing of a boxing heavyweight title fight and it delivered. Ireland's 13-8 win over South Africa was one of the most enthralling, nail-biting matches we've seen and a benchmark in quality and intensity for the rest of the tournament.
The atmosphere was electric, and it was the sort of match where you dare not take your eyes off the pitch for a brief second for fear of missing something. In the end it was Ireland who managed to hold out the Springboks who were within touching distance of their tryline with a rolling maul, only for it to be held up and the ball going to ground.
From the first moment of the match where Johnny Sexton hoisted the ball into the air, to the last moment where the final whistle was blown it was unrelenting in physicality and intensity. The brutal nature of the match saw a litany of monstrous tackles, but all perfectly judged.
In the end it was a try-apiece with Mack Hansen scoring in the first half and Cheslin Kolbe in the second for the Boks. The scoreboard shows a five-point win for Ireland, but the Boks left 11 points on the pitch due to erratic kicking from Marnie Libbok and Faf de Klerk. But it was so much more than the scoreboard - it was brilliant, top-class level rugby with no inch given and a match which was balancing on a knife edge.
There was very little between the two sides, but you cannot over emphasise how brilliant the atmosphere was. "I've never seen a crowd like that. It was no way that was 30,000 Ireland fans - it was more like 60,000," Sexton said afterwards.
But try suggesting to either team that this was World Cup-defining and they'll dodge such a thought. The Boks talked afterwards about what they'll learn from this heading forward. Their attention switches to Tonga in eight day's time. For Ireland they'll look at the times their set piece misfired in the first half and look at - in Andy Farrell's meticulous way - how they can improve. "It's wonderful to win, but there's not much in it," Farrell said. "Mentally we stayed on it. We rolled with the punches and came out strongly the other side."
For those in the stadium, they'll reflect on having witnessed one of the greatest rugby matches in living memory and a fine candidate for being one of the greatest World Cup pool matches we've ever seen.
- Tom Hamilton
---
AROUND THE CUP
Draw adds to drama in pulsating Pool C
You just can't look away from Pool C in France. After the Wales-Fiji thriller, and then the Pacific islanders' shock victory over Australia, on Saturday it was the turn of Portugal and Georgia to wear down fans' fingernails.
It finished 18-all in Toulouse, but only after a gripping final two minutes when Georgia drew level with a try to Tengiz Zamtaradze, only for Luka Matkava to miss the near-sideline conversion. Then only moments later Os Lobos were given the chance to snatch a first-ever World Cup win when referee Paul Williams awarded a penalty, but Nuno Sousa Guedes was wide with his shot and the deadlock was confirmed.
Georgia had earlier raced out to a 13-0 lead and looked to be on their way to a comfortable win. But just as they showed against Wales last week, this Portugal team can play and they responded with two tries to Raffaele Storti.
The result has effectively ended any chance the Georgians might be able to advance to a quarterfinal for the first time, and they will need to improve dramatically to worry either of Wales or Fiji on the basis of Saturday's effort.
Portugal, meanwhile, will bring their fast-paced game to Saint-Etienne looking to spoil the party for Australia, who may or may not be chasing a bonus-point win to keep alive their own quarterfinal hopes.
- Sam Bruce
Run riot does Arundell as England attack opens up
England winger Henry Arundell wrote himself into men's Rugby World Cup history with his five-try haul against Chile on Saturday in Lille. The flyer will join Racing 92 after the competition, but his quintet of scores means he is level in second place for the most tries scored in a World Cup game alongside Chris Latham and Josh Lewsey. Latham's five came for the Wallabies against Namibia in 2003 while Lewsey scored five for England against Uruguay the same year. But it's still New Zealand's Marc Ellis out in front after he scored six in New Zealand's 145-17 win over Japan in 1995.
Arundell's fourth was a beautiful effort as he collected his own chip and chase to dot the ball down in what was a great return for the 20-year-old. Alongside Lewsey, two other players have scored five tries in a game for England: Danny Lambert against France in 1907 and Rory Underwood versus Fiji in 1989.
"I can't believe it to be honest," Arundell said afterwards. "Surreal. How the hell did that just happen? But it shows a real team performance. We have lots of depth and we want to score tries."
England scored 11 tries overall with Theo Dan (two), Bevan Rodd, Willis, Smith (two) also crossing. Willis and Smith impressed, but it'll be Arundell in the headlines as England enjoy a week off before facing Samoa in Lille on October 7.
"The aim [in attack] hasn't changed much," Arundell added. "It's about the team we're playing, the circumstances, and the conditions. Steve [Borthwick] always says 'find a way to win'. It was pleasing. You can't get too ahead of yourself, though. Focus is on Samoa now, to win the group. The future can be whatever you decide it to be."
- Tom Hamilton
---
MATCH PREVIEW
Scotland vs. Tonga:
TAB [tab.com.au] Scotland $1.06, -25.5 $1.90; Tonga $12, +25.5 $1.90
Fresh off a bye week, Scotland return to World Cup action looking to set course for a potentially pool defining clash with South Africa. But Gregor Townsend's side can ill-afford to look beyond Tonga, who had their moments against a first-rate Ireland side last weekend. In the end, the Irish were able to wear down Ikale Tahi with Bundee Aki proving particularly damaging in midfield. Scotland aren't blessed with a similar midfield battering ram, but they do have the guile and skill of Finn Russell who will appreciate the extra space he wasn't afford by the Springboks and their rush defence. Duhan van der Merwe will also been keen to show his talents after he was kept unusually quiet by the Boks in Marseille a fortnight ago. Tonga have the ability to go even further into this clash than they did against Ireland, and even inspire a few nerves in Scotland's travelling fans, but the favourites' class should tell in the long run, particularly if they are able to squeeze their opponents at the set-piece.
Wales vs. Australia:
TAB [tab.com.au] Wales $1.90, -1.5 $2.05; Australia $1.90, +1.5 $1.77
Has there been a bigger game in recent Australian rugby history? RA chairman Hamish McLennan recently described it as the code's biggest game since the 2015 final, but you get the sense there is even more on the line in Lyon this weekend. Lose, and the Wallabies will effectively be out of the tournament. Win and their campaign will have a genuine pulse, and coach Eddie Jones' overhaul will be spared its final judgement for another week at least. On the other side of the coin are Wales, who can wrap up a quarterfinal spot of their own with a win, and continue their climb out of the terrible mire that engulfed the game earlier this year.
Both Warren Gatland and Jones have an incredible understanding of how the other operates, and how their teams like to play. And then there is the recent run of results between the two sides, which average only 3.33 points differential across their past three encounters. All signs point to another gripping Test match as a result.
Wales will look to build scoreboard pressure through superboot Dan Biggar, while Australia will be hoping Ben Donaldson can provide the stability and game management Carter Gordon lacked. There is more attack in the Wallabies, but Wales will be inspired by what Fiji were able to do their opponents' breakdown and come hard at Australia at the tackle to upset their opponent's ball. Still without key ball-carriers Will Skelton and Taniela Tupou, the Wallabies' forwards must aim up in their absence and provide the platform that simply wasn't there against Fiji.
---
NEWS OF THE DAY
Dupont undergoes surgery on fractured cheekbone
France captain Antoine Dupont has undergone surgery on a facial injury and will return to his Rugby World Cup squad to recover, the French federation (FFR) said on Saturday, though it gave no timeline for when the scrumhalf might return to the field.
The 26-year-old sustained the injury in Thursday's 96-0 record win against Namibia in a head-to-head clash with opposing captain Johan Deysel, whose initial yellow card was upgraded to a red.
"Following his injury sustained during the France-Namibia match, Antoine Dupont underwent surgery at Toulouse's CHU Purpan on Sept. 22 at around 11 p.m.," the federation said in a statement.
"In a few days' time, he will be able to return to the French team as part of a gradual sporting recovery under medical supervision."
The FFR did not say when Dupont would be able to play again but the player sounded optimistic on Saturday.
"Wounded but not sunk. Show must go on. Can't wait to return to the squad," Dupont wrote on X (ex Twitter).
France, who are already without flyhalf Romain Ntamack at the World Cup due to injury, next face Italy on Oct. 6. It is likely to be a must-win game for Les Bleus unless the Italians can beat New Zealand on Sept. 29.
France could face top ranked Ireland or defending champions South Africa in the quarter-finals on the weekend of Oct. 14-15.
Dupont is expected to miss at least the Italy game, which leaves coach Fabien Galthie to choose between Baptiste Couilloud and Maxime Lucu to replace the 2021 World Player of the Year.
France have won 27 of 31 tests with Dupont in their ranks and lost four of 11 in his absence.
- Reuters
World Rugby boss satisfied with bunker system
World Rugby chief executive Alan Gilpin says he is happy with how the TMO bunker is working in France, despite a few early decisions that divided opinion on social media. The opening weekend of the competition saw three similar head-on-head collisions that all generated different outcomes of a red card, a yellow card, and no sanction at all.
Springboks centre Jesse Kriel was the man cleared of foul play for a head clash with Jack Dempsey, which appeared to be the right decision once all angles were released to the public; which was not shown in the broadcast at the time.
Such is the nature of the broadcast and the fact that play moves on quickly, the 16 different camera views and "hawkeye" angles that the TMO has available are not always shown. That was the case in Kriel's incident, with video released in the days after South Africa's win over Scotland showing his tackle had slipped up after initial contact was with the ball.
Gilpin said World Rugby was working hard to show fans what the officials were seeing.
"I think the foul play review bunker is working well. It is a new process and we are working hard to make sure people see the right replays and better understand the decisions that are being made," he said.
- Sam Bruce
Portugal coach calls out 'unfair' fixture imbalance
Coach Pablo Lemoine said Chile never had a chance of competing against England in their World Cup clash on Saturday having never previously played opposition of similar calibre.
England ran in 11 tries to finish 71-0 winners and Lemoine said it was neither disappointing nor a surprise to see the lowest-ranked team at the tournament so badly beaten by the 2003 world champions.
"I'm not really disappointed, sorry, that's the reality, that's what is happening with the rankings," he said.
"When we come here, we are part of the show but we never can play the games because we've never played that kind of game during the cycle between the World Cups.
"I hope that changes because it's not good for the players or for the supporters... the score is completely unfair."
Captain Martin Sigren took a slightly more optimistic view than his coach of the evening at Stade Pierre-Mauroy.
"A tough lesson," he said. "Not one that we haven't had before.
"It's impossible not to remember that four years ago, we were getting the same results against Canada, against USA. We were losing games against Brazil. Four years later, look at us, we're here, so I have to hold on to that.
"I cannot let my arms drop. We will keep on working, maybe four years later the results will be different."
Chile move on to an all-South American World Cup clash against the Pumas of Argentina for their final Pool D match in Nantes next Saturday.
- Reuters
---
TOP FEATURES OF THE DAY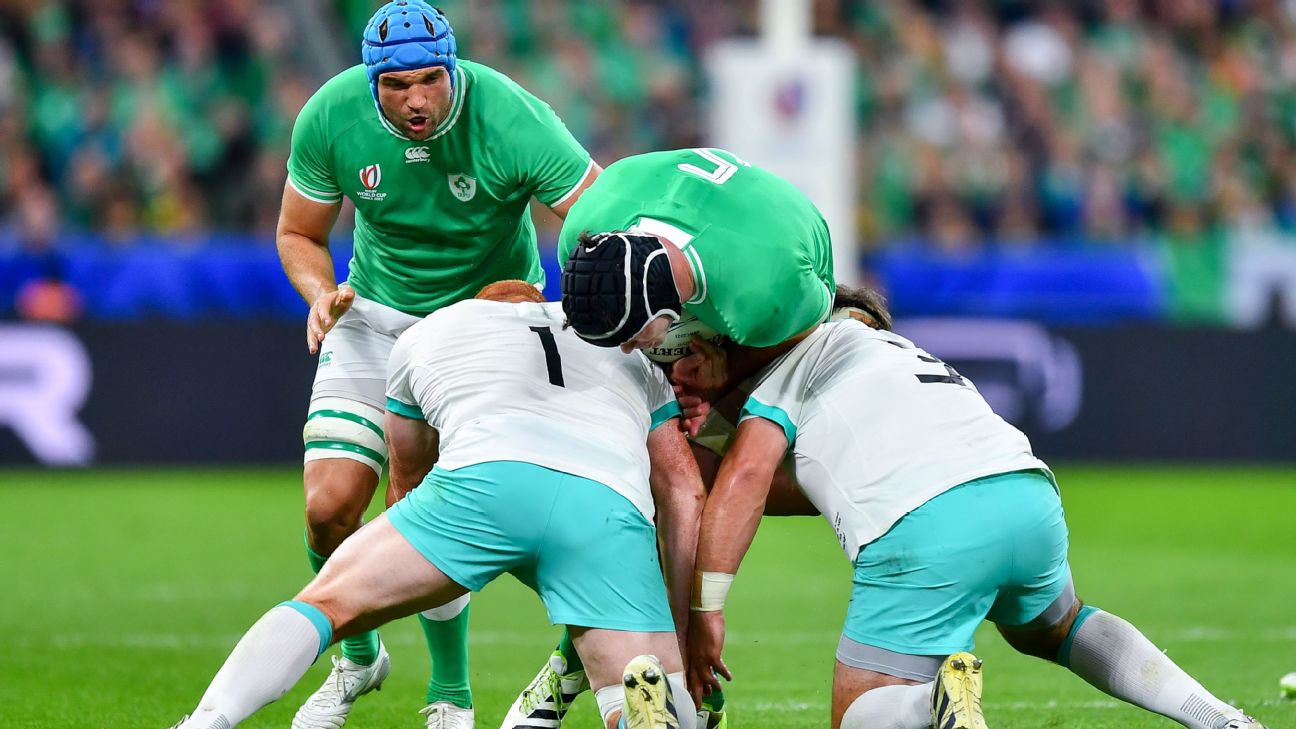 Ireland make a statement against South Africa
Ireland was telling the rest of the world that there's no danger of them choking at a Rugby World Cup. If they're not going to be the team standing lifting the Webb Ellis Cup on October 28, it's going to take something truly remarkable to stop them.