As the vast majority of all sports and entertainment organizations closed their doors in response to the rapid spread of COVID-19 and waited for a window to reopen all over the world, only a few entities pushed forward under controlled environments.
While sports leagues were still in their planning stages for how a return would look and the work it would take to get there, WWE never disappeared from the airwaves. With its Performance Center facility just outside of Orlando, Florida, WWE had a facility to satisfy the needs and requirements of the situation. With the blessing of Florida Gov. Ron DeSantis, who designated what WWE was attempting an essential service in the state, WWE produced all of its weekly cable programming and pay-per-views from the PC.
For months, temperature checks were the primary measure in place as WWE tried to keep its performers safe and their enclosed environment free of an outbreak. With the exception of a lone case acknowledged by WWE in late March -- a non-wrestler whose contact had been limited and happened outside a window in which shows had been taped -- WWE seemed to dodge major trouble.
Crowdless shows were the initial executions, plus an adaptation of the way they filmed and performed matches. WWE rolled through multiple pay-per-views -- WrestleMania, Money in the Bank and Backlash -- and kept pumping out Raw, SmackDown, NXT, 205 Live and Main Event shows every week. Eventually, NXT wrestlers and other Performance Center trainees were called into duty as surrogate fans behind plexiglass barriers. In recent weeks, according to WWE, limited "friends and family" were added to the mix as well, ostensibly distanced six feet apart from each other.
Then, on June 16, WWE was faced with a potentially dangerous issue when a developmental talent who was in the crowd on June 9 tested positive for COVID-19, which temporarily halted the production of shows. On June 24, on-air commentator and broadcaster Renee Young revealed that she had tested positive for COVID-19, followed in short order by similar social media posts by on-air personality Kayla Braxton and behind-the-scenes producer Adam Pearce.
While not officially commenting on positive tests, WWE has adopted larger-scale testing for COVID-19 before each of their event tapings in recent weeks. A statement from the company read, "WWE will continue COVID-19 testing of its talent, production crew and employees in advance of TV productions for the foreseeable future."
Additionally, the audience for each show has gone from no masks to everyone wearing masks. There have been no further publicly acknowledged positive tests, and WWE has continued to film its weekly content without interruption. In the midst of these positive COVID-19 tests, WWE was also dealing with ongoing accusations against its talent as women in the wrestling industry spoke out about past abuses. To date, three wrestlers have been released by WWE: Jack Gallagher, Travis Banks and El Ligero.
A week and a half out from its next scheduled pay-per-view event, the Horror Show At Extreme Rules, WWE shows no sign of defying the drive of "The Show Must Go On." Mandatory masks and tougher testing are both great steps in the right direction, to be sure. But in the face of in-house positive tests, one would hope that WWE would stop utilizing the plexiglass partitions as a storytelling device and prop, as was utilized once again on Monday night when Nikki Cross returned to ringside during the main event, mingled with the crowd and pounded on the glass while not wearing a mask to simply provide a distraction for a match going on in the ring.
Wrestling fans around the world long for the days when there is a re-established sense of normality at shows with crowds. In the meantime, all we can do is hope that everyone stays as safe and as healthy as is possible.
---
Sasha Banks reminding the world who she is
July could well go down as a key moment in the re-ascension of Sasha Banks.
As Banks and Bayley have filled WWE airwaves two and three times a week since winning the women's tag-team titles, their chemistry is bursting at the seams. The occasional dusting of tension over an otherwise cohesive unit has informed the very worst (best) type of villainous performance -- wrestlers who are stars in the ring and could get it done the "right way," but choose to cheat simply because they can.
Bayley and Banks have proved in each and every match they've had of late on Raw, SmackDown and NXT that they are locked in, and it's hard to argue against their pair of singles title matches at Extreme Rules being the centerpieces of the card.
Banks is in the midst of living out a dream sequence of opponents, rattling off matches with three Japanese veterans whose in-ring style puts Banks in position to have some of her best matches in recent memory. It started with her match against Io Shirai on NXT's Great American Bash, continued Monday against Kairi Sane and culminates with a Raw women's championship match at Extreme Rules. This time last year, Banks was embracing her love of Japanese wrestling with an excursion to a training dojos there. Now she's getting to show off what she learned.
The United States championship makeover
Let's ignore, for a moment, the questionable logic MVP used to try to call himself the uncrowned United States champion after a nontitle victory over Apollo Crews last week. It felt all too appropriate that MVP, one of the wrestlers most closely tied to the version of the title belt WWE has used since 2003 (with the exception of a John Cena spinner rebrand), was the one to reveal the new version of the United States championship.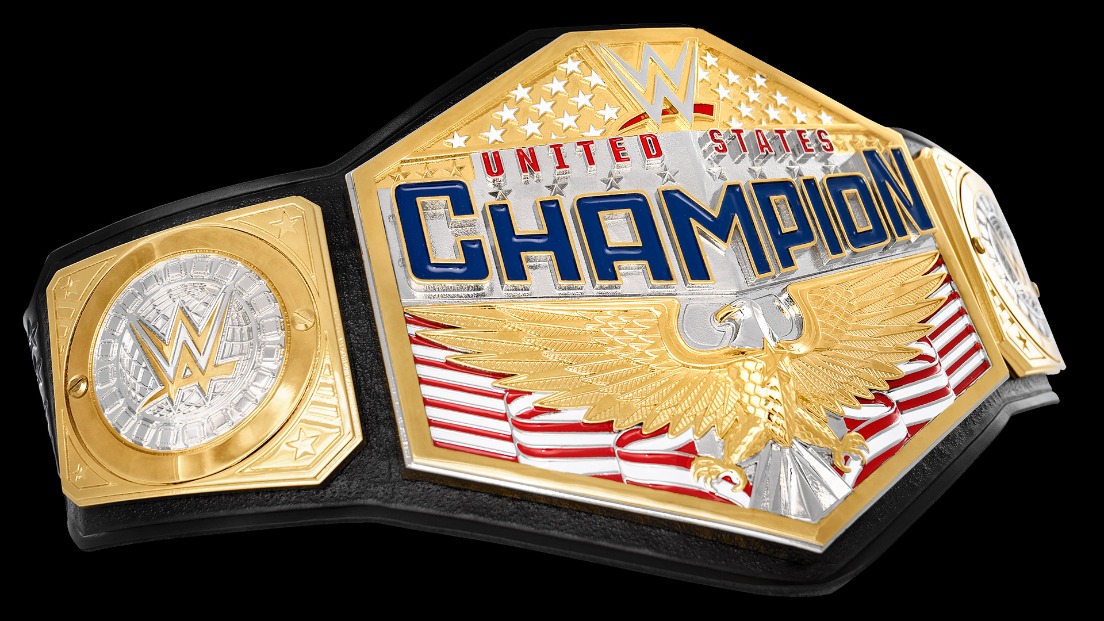 On Monday Night Raw, MVP revealed a new design for the WWE United States championship. Here's a closer look. (Photo courtesy of WWE)
Only time will tell how fans will react, either embracing or despising the new design for the belt. The blowback the Universal championship received at its inception, for example, seems drastically overblown. Instant reaction is that this belt has potential.
But the real focus should be on the light that MVP has helped shine on currently and previously overlooked talent on the Raw roster. Bobby Lashley has seen his confidence grow considerably, and has looked as comfortable as he's been since his return to WWE in his rivalry with Drew McIntyre. Crews has the perfect foil to bounce his energy off of as he continues to come out of his own shell since winning the U.S. title. And the addition of Ricochet and Cedric Alexander to the mix helps take two guys who have no business simply being relegated to matches on a third-tier show like Main Event and gives them a chance to remind everyone what they can really do.
This chunk of gold from MVP, spoken to a beaten-down Alexander postmatch, says it all: "Me and Bobby Lashley, we're in the hurting business, man. You? You're in the catering business, because that's where you're going to sit for the rest of your career watching other people be successful."
Regardless of if MVP ends up managing zero, one or several of these guys in the long term, the title and everyone involved in this story have benefited from MVP's gravitas.
Around the ring ...
Speaking of a GHOST from @DMcIntyreWWE's past...@HEATHXXII is here on #WWERaw! pic.twitter.com/B5W1DkF7gG

— WWE (@WWE) July 7, 2020
I did not see a Heath Slater appearance on the horizon, but regardless of how you feel about the WWE trying to capitalize on its own pandemic-related releases yet again to generate sympathy for a wrestler, the brief appearance was a reminder that Slater has a lot to offer with charisma coming out of his pores. It's 3MB's destiny for everyone to have at least one singles title reign, and Slater's the only one missing. Just saying. ... It's sad to see Ruby Riott continue to get overlooked. After dropping her second straight loss to The IIconics, it appears Riott could be on the path to reuniting with Liv Morgan down the line. The Riott Squad never should've broken up in the first place, but with how much Morgan has shown of late herself inside the ring, anything is better than being the perennial punching bag. ... I'm not sure exactly sure how an eye-for-an-eye match is contested, before, during or after the fact, but I think I echo Kevin Owens' feelings on the matter. ... Is there anything that Randy Orton can't do right now? On top of everything else he's doing for himself, Orton's efforts may have single-handedly saved Andrade and Angel Garza as a team. Third-generation stars as a temporary alliance seems good by me, and it can only help Andrade and Garza moving forward. ... Bayley and Asuka got time to make the main event feel special, and it did. That's what a champion vs. champion showcase should look like. I'd be remiss in crediting Banks' work while ignoring Bayley's continued evolution as SmackDown women's champion. Starting to think a breakup with Banks before SummerSlam is a little less likely, but that match will be incredible again, whenever it does eventually happen.