Federer defeats Djokovic in straight sets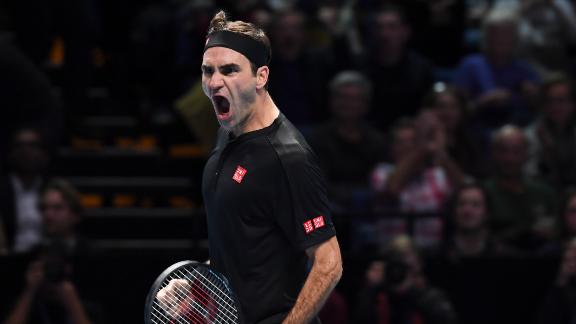 Tennis
Nadal saves match point, defeats Medvedev
After being down 5-1 in the third set, Rafael Nadal rallies to beat Daniil Medvedev 6-7, 6-3, 7-6 and keep his chances of advancing from the group stage of the ATP Finals alive.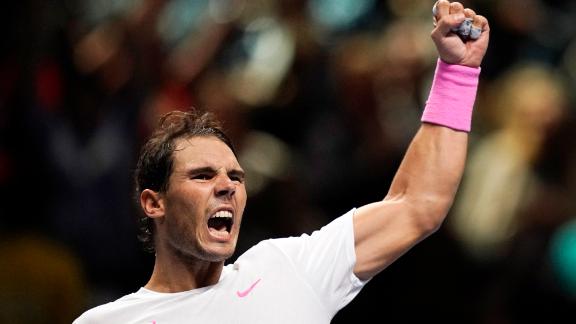 WNBA
#espnWtop10
Check out this week's espnW top 10 plays including action from the US Open, the end of the WNBA regular season and more.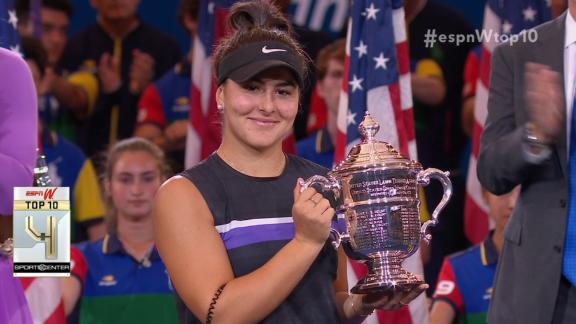 Tennis
What does the future hold for men's and women's tennis?
John and Patrick McEnroe look ahead to what the next few years of tennis could look like, following the conclusion of the US Open 2019.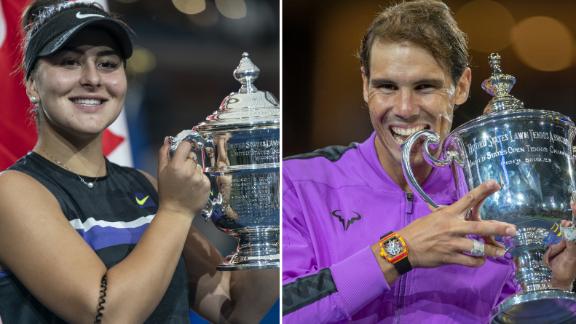 Medvedev thanks fans -- sincerely this time
Daniil Medvedev references his infamous interview, this time sincerely thanking the US Open crowd for motivating him.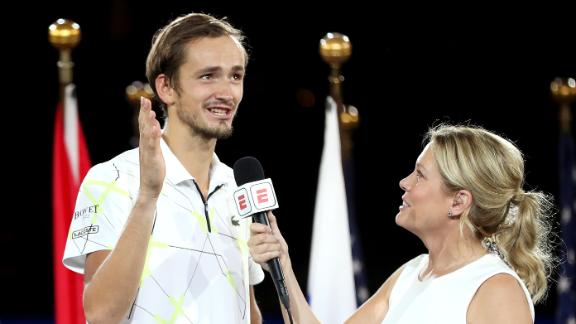 Rafa emotional after US Open win
Rafael Nadal gets emotional after winning his 19th Grand Slam championship.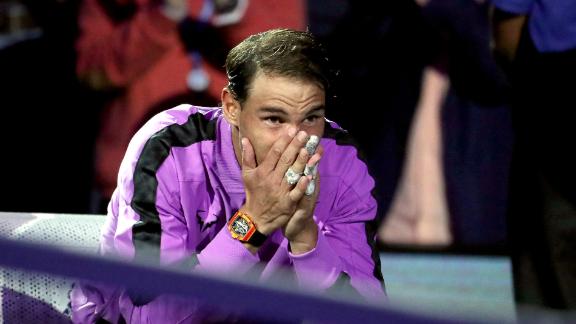 Tennis
Nadal outlasts Medvedev to win 19th major title
Rafael Nadal fights off Daniil Medvedev's comeback attempt to win an epic five-set match and his 19th Grand Slam championship.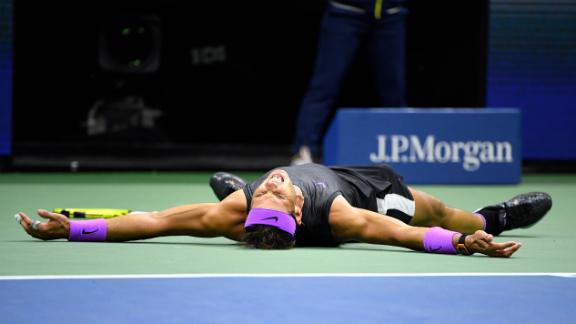 Tennis
Nadal-Medvedev match full of big moments
Check out some of the top highlights from Rafael Nadal's match vs. Daniil Medvedev for the US Open title.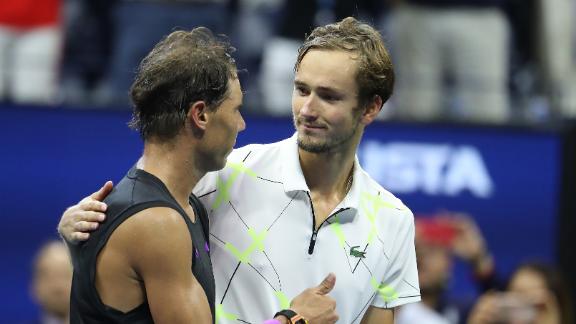 Tennis
Tennis
Medvedev sends finals match to 5th set
Daniil Medvedev breaks Rafael Nadal's serve to level the match.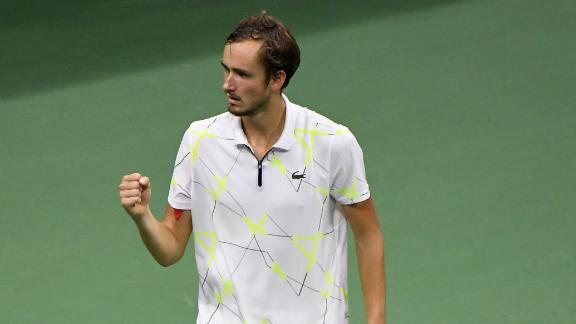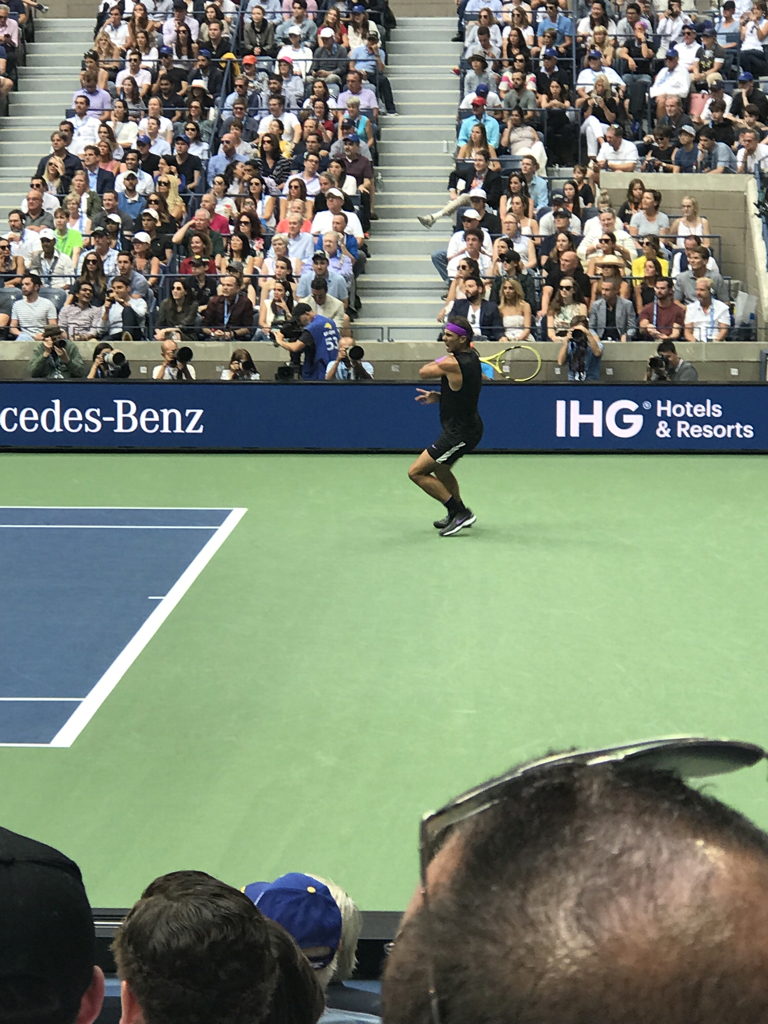 In a remarkable burst of energy and ferocious focus, Daniil Medvedev out rallies Rafael Nadal to send the US Open final to a fourth set. Nadal is 208-1 in best of five matches after winning first two sets, but that lone loss was on this same Arthur Ashe Stadium court, to Fabio Fognini in 2015.
Tennis
Medvedev fights back to take 3rd set
Daniil Medvedev breaks Rafael Nadal's serve to win the third set 7-5.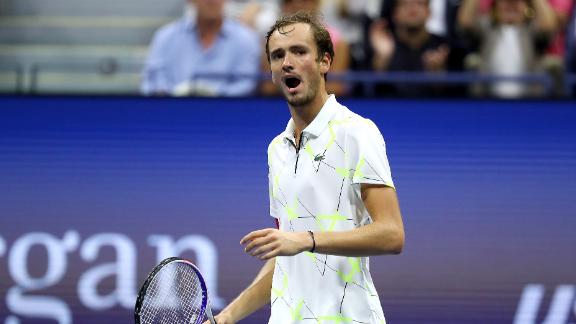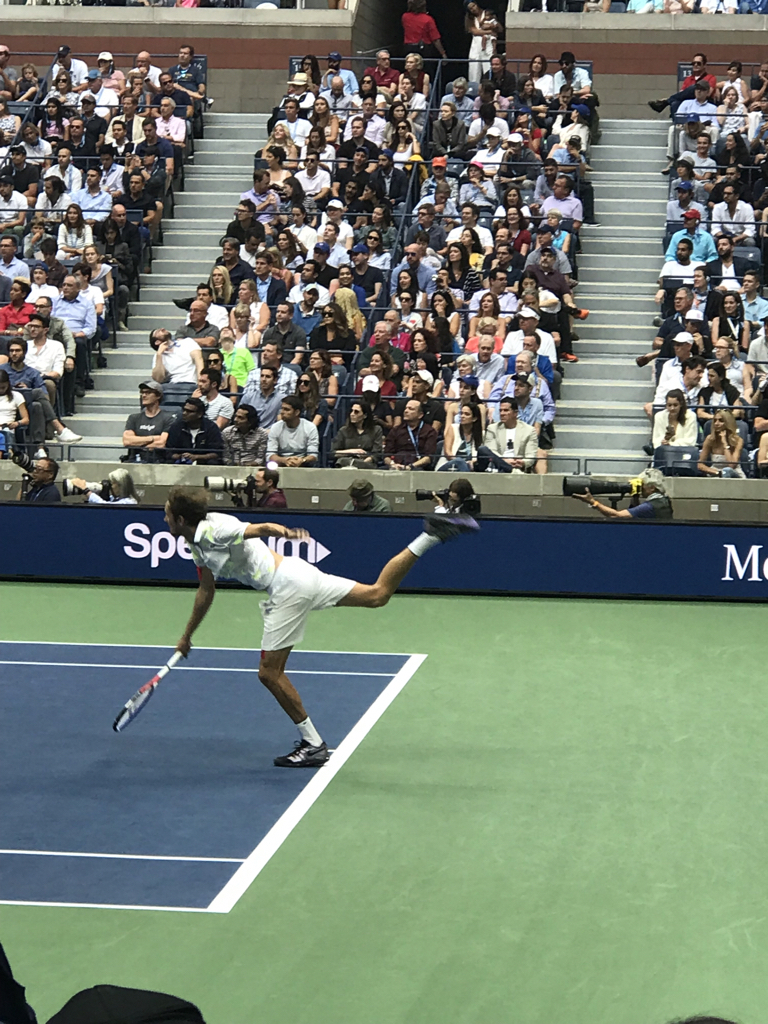 Daniil Medvedev is trying every trick in the book to wrest the second set of the US Open final from Rafael Nadal. But Nadal keeps saying "no pasaran." Nadal wins set 2, 6-3.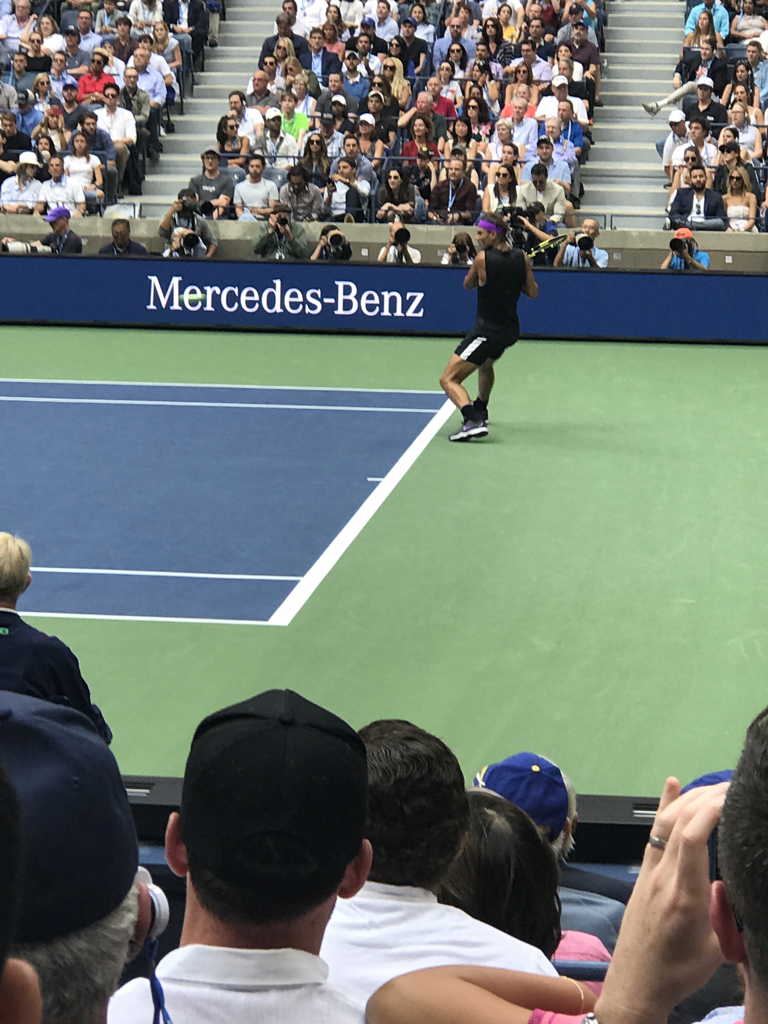 In classic Medvedev fashion, the 23-year old Russian unexpectedly attacks the net when down set point. It worked on a break point earlier. Not this time. He hits a leaping backhand smash into the net. In classic Nadal fashion, the 18-time Grand Slam champ wins the first set.
Tennis
Nadal takes the 1st set
Rafael Nadal breaks Daniil Medvedev's serve to take the first set of the men's final.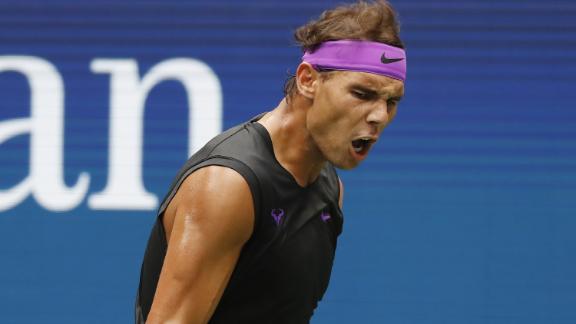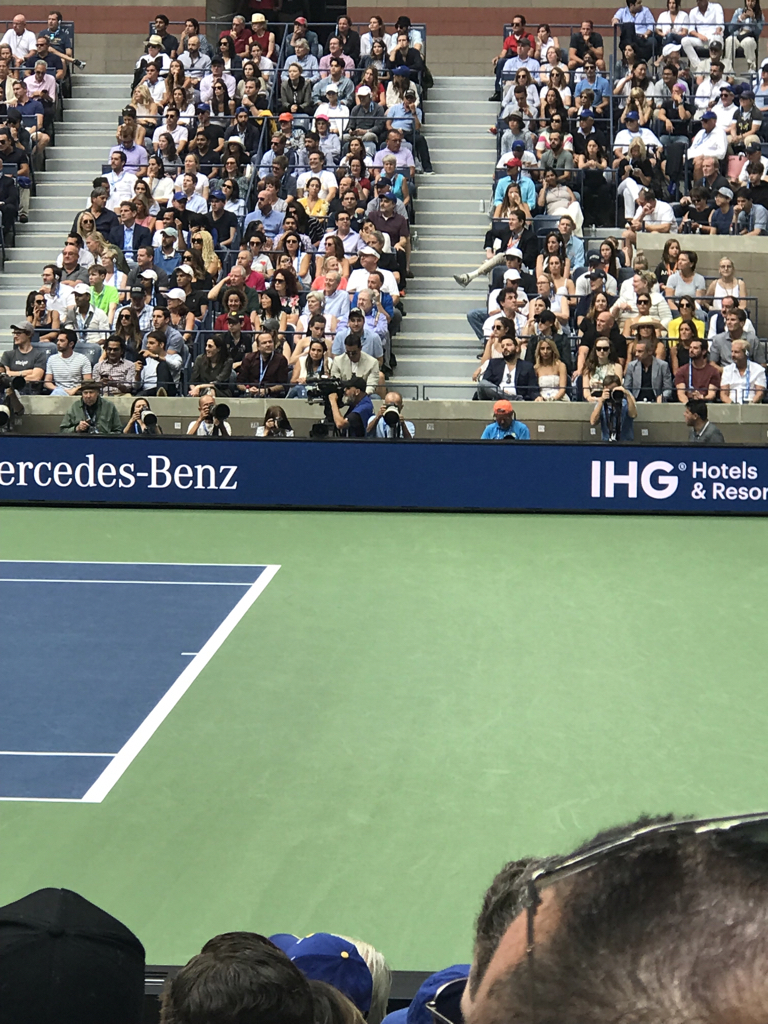 This is a photo of Rafael Nadal waiting to return Daniil Medvedev's serve. If you're wondering why you don't see Rafa it's because he's THAT far back behind the baseline. However, he is moving up to take DM's second serve more aggressively.
Serena Williams: My worst match of the tournament
Serena Williams reflects on her second US Open finals loss in a row, describing it as her "worst" match of the tournament.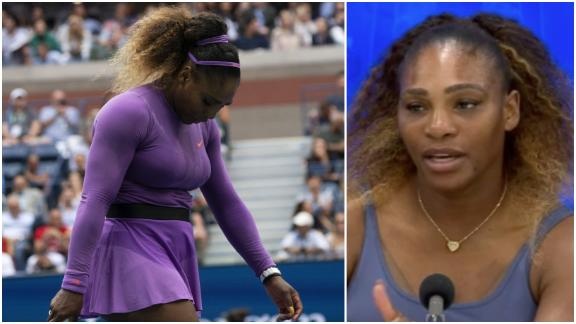 Tennis
Emotional Andreescu 'Stayed composed' to win US Open
After winning her first Grand Slam an emotional Bianca Andreescu reveals what It took to beat Serena despite her home court advantage.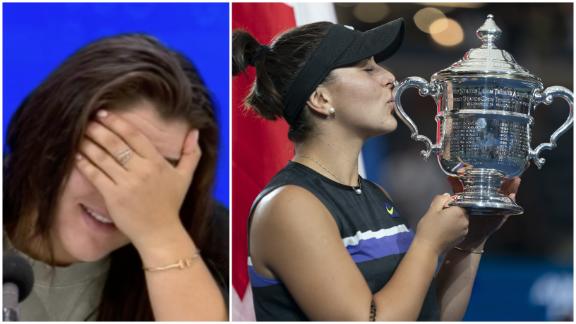 Tennis
Andreescu takes down Serena in straight sets for championship
Bianca Andreescu defeats Serena Williams in straight sets to claim the US Open championship, and prevents Williams from winning her 24th grand slam.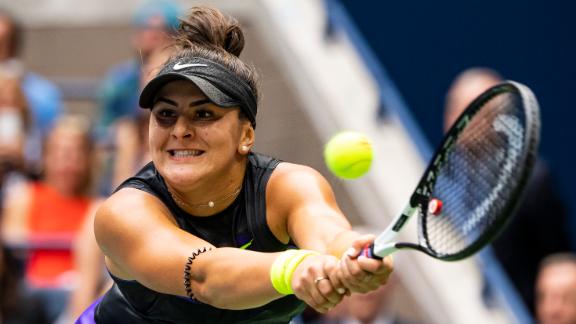 Tennis
Andreescu's pressure on Serena's serve sealed win
Chris Evert and Chris Fowler break down the US Open Women's Final, with Evert noting that Bianca Andreescu put pressure on Serena Williams' serve to force a lot of errors.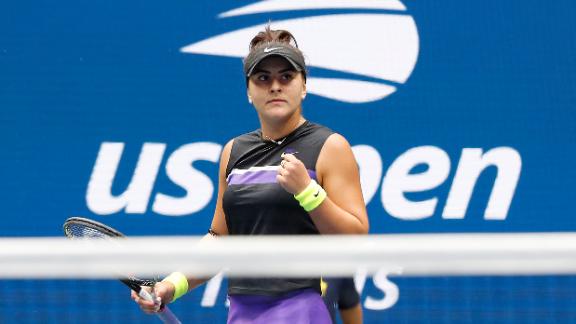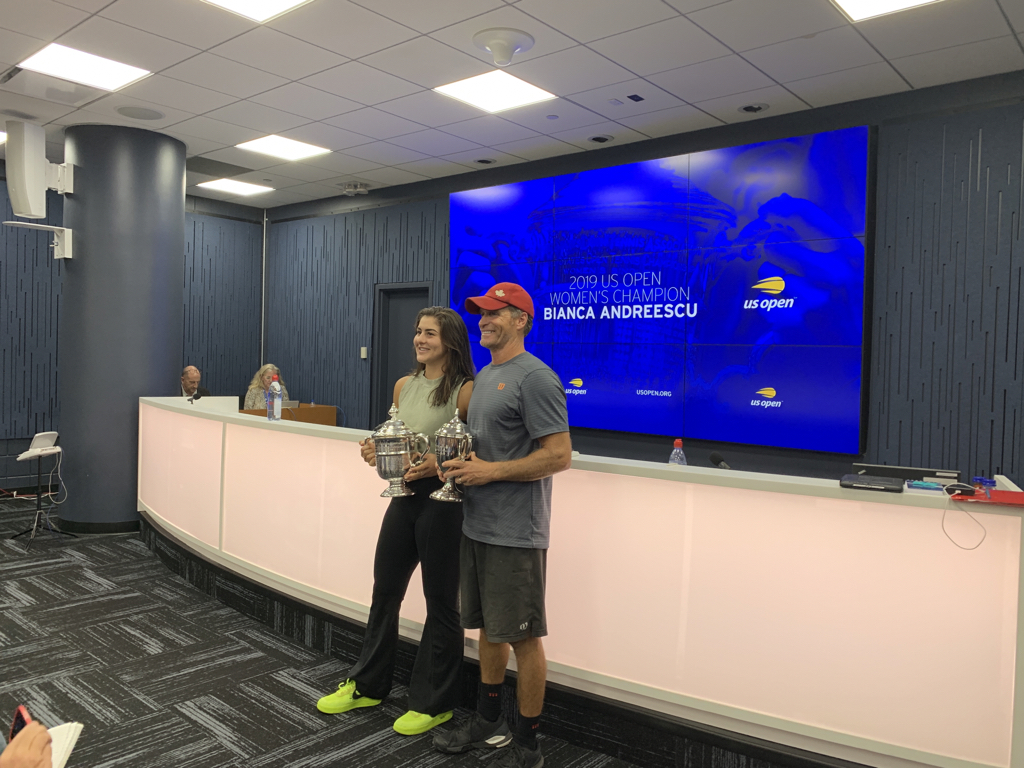 Bianca Andreescu's coach Sylvain Bruneau received the US Open Coaches Award and joined the new champion in posing for photographers, with their respective trophies..
Tennis
Andreescu weathers Serena's storm to win 1st US Open championship
Bianca Andreescu survives Serena William's comeback attempt to win her first career Grand Slam championship 6-3, 7-5.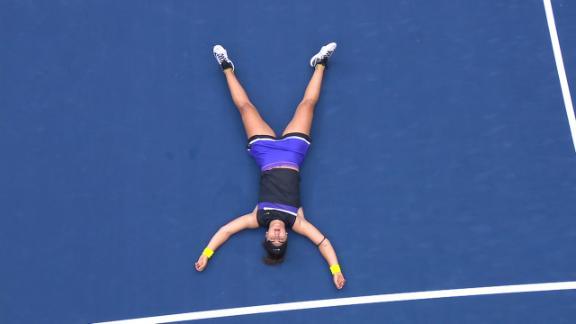 Andreescu: I'm beyond grateful and truly blessed
Bianca Andreescu reacts to becoming the first ever Canadian Grand Slam champion and calls her opponent Serena Williams a "true legend of the sport."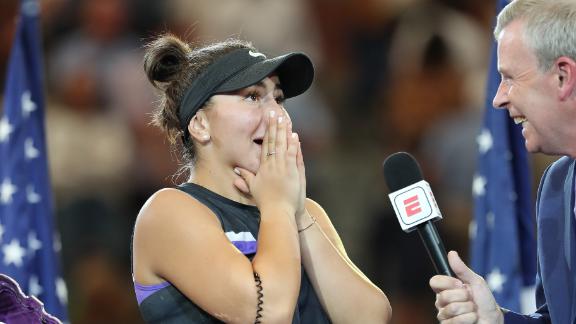 Serena gets her first break
Serena Williams' shot hits the net, falling out of Bianca Andreescu's reach and securing her first break of the match.